xNT NFC Chip - Cybernetic Implant
xNT NFC Chip
Microchip Implant. NFC Implant. RFID Implant.

NTAG216 13.56MHz ISO14443A & NFC Type 2 chip
2x12mm cylindrical sterile bioglass implant
Works with NFC smartphones and ISO4443A readers
RFID Diagnostic Card and 13.56MHz X Field Detector included!
More Details
WARNING This kit definitely contains dangerous things. While our x-series chip implants have undergone several quality checks during manufacture, and have been put through a battery of tests, they have not been certified by any government regulatory agency for implantation or use inside the human body. Use of this device is strictly at your own risk.


The xNT NFC chip implant was designed by Dangerous Things and production of it was originally crowdfunded via an Indiegogo campaign in 2013. It works with NFC enabled smartphones, certain commercial access control systems, and USB contactless ISO14443A readers.
xNT Kit Contents
The xNT kit contains the following products and materials, which are designed to enable you to bring the kit to a professional installation partner for installation.
1 sterile injector assembly, pre-loaded with xNT chip implant
2 single use

 

ChloraPrep

 

antiseptic wipes
1 sterile gauze pad for post-installation wound care
1 sterile expandable-fabric adhesive bandage
1 pair of non-sterile, non-latex procedure gloves
xNT Kit Extras
The following accessories also come with the xNT kit. These accessories are "field detection" tools designed to assist you with identifying the type of readers you may encounter, but also the best location and orientation to present your xNT chip implant to any reader to get reliable performance.
1 RFID Diagnostic Card
1 13.56MHz X Field Detector
Our X Field Detectors (XFD) will show you the best position and orientation to present your chip implant to any readers of the same frequency, while our RFID Diagnostic Card will tell you all about the frequency and duty cycles of random readers you encounter in the wild.
Important Things To Know
It's going in your body, you should learn about things like performance expectations, installation procedure, first steps after installation, etc.
How/where are x-series chips installed? Aftercare? What to expect?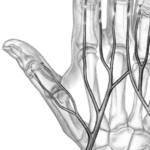 Our x-series transponders are typically installed into the webbing between the metacarpal bones of the index finger and thumb, resting parallel to the index metacarpal. They should be at least 5mm away from any bone or other implants to avoid possible impacts. The reason chip implants are usually installed in the hand has to do with the extremely short read range of most small chip implants. In the case of access control where the chip must be presented dirctly to a fixed reader of some kind, the hand is easily able to be properly positoned in front of the reader. To find out more about common installation locations of the hand, visit
https://dngr.us/locations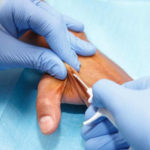 Achieving a safe installation definitely requires skill and experience performing aseptic procedures. Dangerous Things prefers our customers locate one of our
professional body piercing or body modification partners
to complete the installation of our products. If no partners are available in your area, you should be able to follow
this guide
to finding a professional in your area. For aftercare information and what to expect, please read our
X-Series FAQ
page.
Testing process, return policy, and lifetime warranty
Testing Process
Our x-series chip implants come pre-loaded inside injector systems with steel needles, and because of this they cannot typically be read while packed inside the needle. This is why we perform a full test on every x-series tag before it is loaded into the injector assembly and sterilized. We have also conducted several tests on our x-series chips and
cataloged those tests here
.
Return Policy
We offer a 30-day money back guarantee! Read all about it on our
return policy page
.
Lifetime Warranty
If you do purchase one of our products and experience a failure, we offer a full lifetime warranty on all of our implant products. You will need to return the product for testing and analysis, and if it is determined to be malfunctioning, we will ship you a replacement free of charge. Read all about it on our
warranty policy page
.
---
We Also Recommend
---