NeXus Trigger Interface
NeXus Trigger Interface
The NeXus Trigger Interface (NTI) is used to accurately synchronize the physiological parameters being recorded by the NeXus device with external stimuli (triggers) generated by a computer running e.g. E-prime/Presentations or external devices like Eye-trackers. It can be used for registering stimuli in event-related potentials (ERP) or evoked potentials (EP) experiments, also in combination with E-prime or presentations.

The NTI measures all of its inputs with 2048 samples/second, which comes to an accuracy of less than 1 ms.

The NeXus trigger interface is a product we often suggest to our University and research clients as it is often important to have an accurate way of synchronising environmental events (sound, light or digital event) with data being captured with a Nexus 4, 10 or NeXus 32 system unit.

Whether your ultimate application is sport, physiology or clinical, the NeXus trigger interface can monitor different types of events simultaneously and use these to trigger the acquisition of physiological signals and mark the events in the captured data.
The trigger interface supports the following types of stimuli or events:
Light sensor
RS232 serial (this cannot be used simultaneously with the Light Sensor)
Microphone
Audio (line)
On/Off switch
Manual Switches (optional)
Synchronize external stimuli by sending markers to the NTI over an RS232 Serial cable, the light sensor, microphone or audio cable.



Notes on Usage:
The light sensor is intended to synchronise an event on the PC monitor with the ExG/Aux signals of your NeXus device. In use, the light sensor can be taped to the corner of the PC monitor, for example. The sensor is plugged into the digital input of the Trigger Interface and in a VEP/ERP application, it detects a black and white transition on the monitor. The area on the screen maybe the size of the light sensor itself so the user is not distracted by the transition.
The microphone is intended to respond to sound events in the background environment. The sound level that activates the trigger is adjustable through the potentiometer located next to the microphone input. When a sound is generated above the set threshold, a trigger will be sent to the connected Nexus device and a marker is placed and labelled on the overview screen in BioTrace+ software.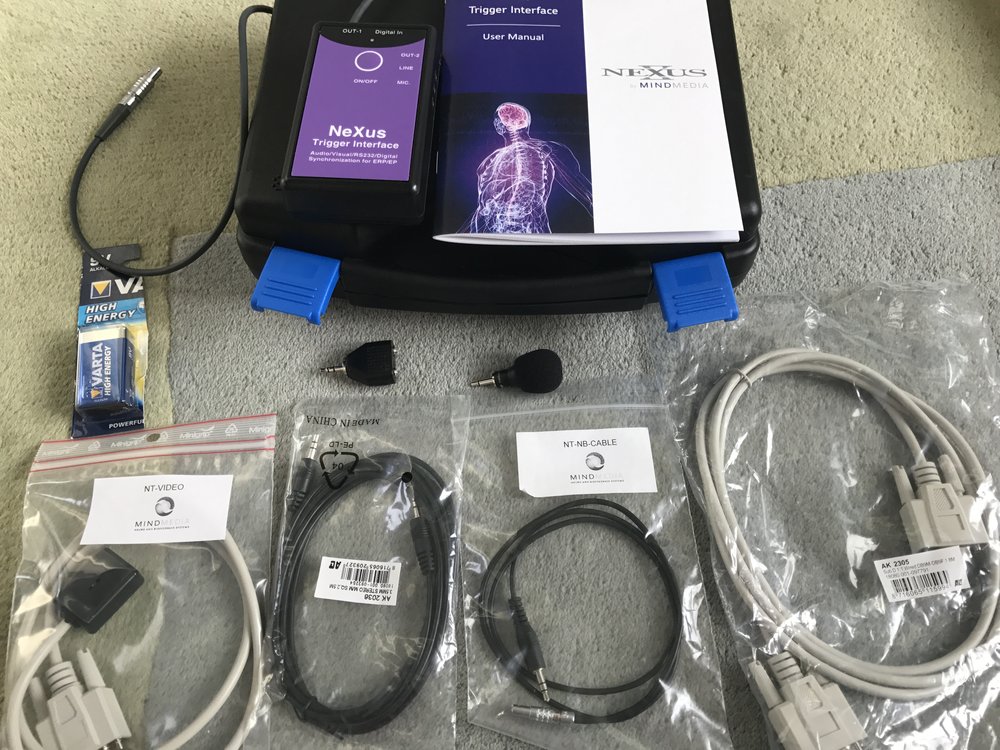 The whole package consists of the following parts:

NTI - The NeXus Trigger Interface unit

NT-NB-CABLE - The output trigger cable for Nexus 16 and Nexus 32 devices
NT-VIDEO - the light/video sensor
NX-MIC - microphone
K-AUDIO-2MS - audio line cable
C-AUDIO-SPLIT - Audio jack plug splitter
K-RS232-FM - Serial cable (RS-232)
CC NTI - the case for trigger interface and accessories


Specifications:
Compatible with:
Input signals:
RS232
Microphone
Line-in
On/off switch
---
We Also Recommend
---