REX
REX is a hands-free robotic device for rehabilitation
Designed for people with mobility impairments, including those with more severe disabilities, REX offers rehabilitation options and enhances mobility for a wide range of people.

REX TECHNOLOGY:
Motion is generated by 10 custom-designed linear actuators which provide the power to move REX and a user of up to 100Kg.
The custom carbon fibre pelvis provides the strength and stiffness required to support the user whilst minimising the weight of the system.
Half a million lines of proprietary code control 27 onboard microprocessors that manage the actuator systems – forming the core of a custom movement control system that has been developed to ensure stability throughout all phases of the movement cycle.
REX is designed to work with users of different heights. The device leg length can be readily adjusted enabling precise and accurate alignment to the user's joints. Adjustment can be quickly and easily performed between different patient sessions in a clinic.
The harness and abdominal straps help support the user and hold them upright. They are also fully adjustable to provide maximum user comfort.
Wide footplates provide stability and ease of movement across flat surfaces.
Powered by rechargeable, interchangeable batteries. The REX lithium-polymer battery (29.6V, 16.5Ah) carries a charge sufficient for approximately sixty minutes of normal use. Two batteries are provided ensuring continuous use.
Custom designed carbon fibre cuffs, with double tethered straps, hold the legs firmly but without creating pressure points. The removable foam padding allows easy maintenance and compliance with infection control regimens.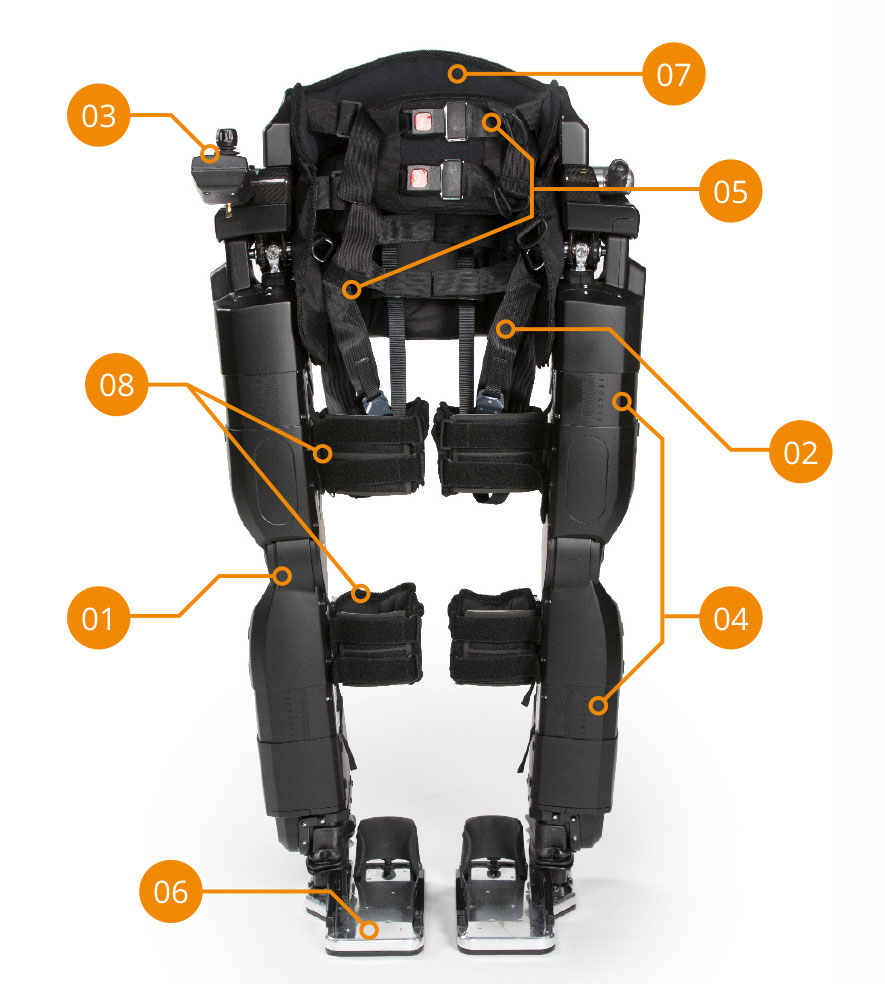 REX CAN BE USED BY A WIDE RANGE OF PEOPLE:
REX STANDS ALONE: HANDS-FREE for functional exercise and activities of daily living.

QUICK TO GET GOING: New users walk with AUTONOMOUS CONTROL in a few minutes.
MANOEUVRABLE: Fully automated FORWARDS, BACKWARDS, SIDEWAYS AND TURNING movements.
REXERCISES:squats, lunges, sit-to-stand, leg swings, and stretches. REXERCISE Mode enables STRUCTURED, REPRODUCIBLE FUNCTIONAL EXERCISE PROGRAMMES directed by healthcare professionals.
WIDELY ACCESSIBLE: People with severe disabilities are able to successfully use REX.
WORKHORSE: SHARES THE PHYSICAL DEMANDS of delivering therapy and reduces the strain on therapists.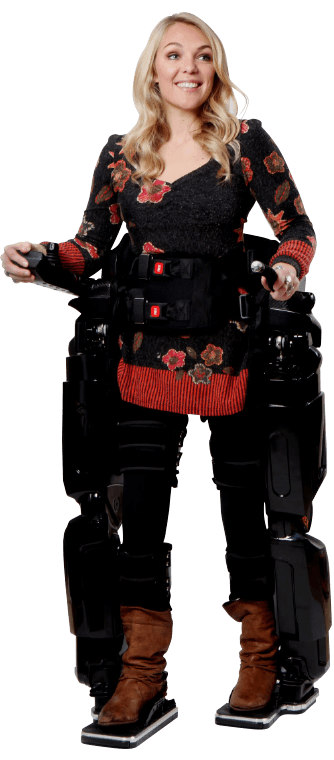 ROBOT-ASSISTED PHYSIOTHERAPY:
The use of robots in physiotherapy offers the opportunity to increase the dose, intensity and specificity of rehabilitation.

REX PROVIDES ROBOTIC ASSISTANCE FOR REHABILITATION, EXERCISE AND WALKING
REX is used by physiotherapists for people with mobility impairments, in rehabilitation centres in the US, the UK, the Middle East, Australia and New Zealand.
Rex Bionics is working with rehabilitation specialists to develop the practice of Robot-Assisted Physiotherapy. REX lifts patients from a sitting position into a robot-supported standing position, allowing them to take part in a set of supported walking and stretching exercises, designed by specialist physiotherapists to help achieve rehabilitation goals (EXERCISES).

REX does not require the use of crutches, leaving the arms free for upper-body exercises and activities of daily living; and allowing access for a wide range of patients.
Wheelchair users are at risk of developing numerous medical complications from extended periods of sitting. By enabling them to spend more time standing, walking and exercising, REX may offer significant health benefits. A programme of clinical trials is underway to evaluate these potential benefits.


CLINICAL TRIALS:
Our commitment to engineering excellence is complemented by a commitment to clinical science and trials are now complete or underway in Spinal Cord Injury – including a substantial Tetraplegia sub-group; Stroke; Traumatic brain Injury and Multiple Sclerosis
The RAPPER II clinical trial results show high levels of practicality, safety and user enthusiasm.
Spinal Cord Injury:
RAPPER II is a multi-centre, international trial to evaluate the feasibility and safety of the REX and of a set of customised exercises performed in a REX; and the impact on quality of life. 56 recruits took part in the study.
In a presentation given at the American Congress for Rehabilitation Medicine, on November 3rd 2016, the trial investigators concluded:

Analysis of the results of the RAPPER II trial has shown that REX is a safe and stable Powered Exercise Equipment, requiring a very limited amount of user training
The trial has shown that it is feasible for people with SCI to carry out a functional exercise program in the REX
There was no difference between the ability of patients with tetraplegia and paraplegia to achieve the functional goals
The User Experience was generally positive especially across the domains of safety, comfort, stability and ease of control
A substantial cohort of participants felt an improvement in Quality of Life parameters
The results of RAPPER II justify further investigation of this technology both in terms of a dose-response relationship and in people with diverse neurological conditions such as stroke and MS.


Spinal Cord Injury (Tetraplegia):
The presentation of RAPPER II analysis by Principal Physiotherapy Investigator, Jon Graham BA, MSc, MSCP at the 93rd annual meeting of the American Congress of Rehabilitation Medicine, Chicago Ill, showed that:

There was no difference between the ability of patients with tetraplegia and paraplegia to achieve functional goals


Multiple Sclerosis:
EAST KENT HOSPITALS UNIVERSITY NHS FOUNDATION TRUST, United Kingdom
RAPPER III:

The Department of Rehabilitation at the East Kent Hospitals University NHS Foundation Trust, led by Dr Mohammed Sakel, has conducted a trial for the evaluation of REX with MS Patients. Results from this trial are expected to be published in 2020.

RAPPER IV:

Following on from the successful RAPPER III trial, Dr Sakel and his team initiated a follow on trial. Recruitment for this trial is complete and the last patients are being treated.


Traumatic Brain Injury:
People who have suffered a Traumatic Brain Injury have successfully used a REX.


Stroke:
People who have suffered a Stroke have successfully used a REX.
A clinical trial has been conducted by the Australian Institute of Neuro-rehabilitation (AIN), Nelson Bay, New South Wales (NSW), Australia and the University of Newcastle, NSW; and is supported by The Newcastle Permanent Charitable Foundation and Rex Bionics plc.
The trial was open to volunteers from the Hunter Region of NSW, who have had a Stroke or Traumatic Brain Injury more than three months previously and have difficulty standing and walking. Volunteers were treated twice a week for twelve weeks and the REX treatment was supplemented by a home programme of exercises. There is provision for MRI examination to correlate the functional and neurological response to treatment.


REXERCISES™:
Rex Bionics has worked closely with physical therapists to develop upper and lower limb exercises. REXERCISES are a combination of static positions and dynamic patterns.
FLEXIBLE: EXERCISES give clinicians the freedom to progress and modify tailored exercise programmes easily and quickly to address all aspects of Strength, Flexibility, Balance and Endurance.
SPECIFIC: EXERCISES: enable clinicians to target specific deficits in a repeatable and accurate manner while reducing the burden on the therapist.
FUNCTIONAL:  EXERCISES provide the stability, flexibility and specificity to enable the therapist to work across a wide spectrum of differing levels of function, to improve specific components of a user's function – both in the upper and lower limbs.
REPEATABLE: EXERCISES can be consistently and accurately reproduced to achieve the high level of intensity required for functional gains, while significantly reducing the strain on the therapist.
STABLE: EXERCISES allow clinicians to focus on the quality of movement and treatment rather than supporting the user.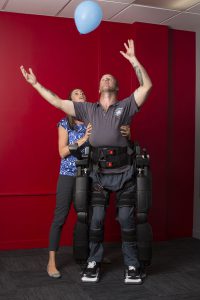 Overhead Balloon Trunk Balance Activity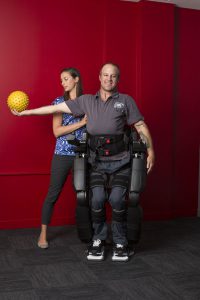 Trunk Stabilization with Outstretched Upper Extremity with Ball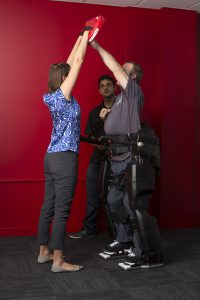 Overhead Boxing to Improve Cardiac Function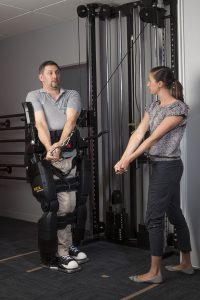 Wall-pulleys Resisted Trunk Rotation with Bilateral Arms Cross Midline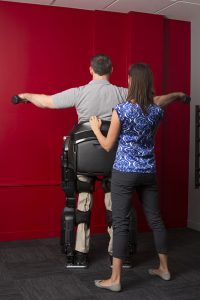 Trunk Strengthening Exercise with Hand-weights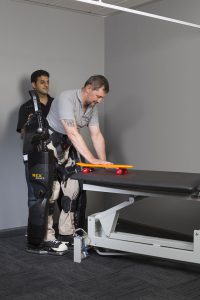 Skateboard-Assisted Forward Reach with Opposite Arm Stabilization
---
We Also Recommend
---